American made and durable, Eric Ross pieces are a must have for any collection. Whether its complex linework or clear production, 4.0 glass is known for form and function. This double bub features two cans of percolation. Each has a dropped downstem with 5 sets of 4 holes on each stem, creating maximum diffusion for optimal vapor production. This piece has a multi-color reversal mouthpiece, as well as a black and white section of flat cane attached to the base.
Features & Specifications
Brand: 4.0 Glass
Dimensions*: L:5.5" / W:4.75" / H:11"
14mm female joint
90 degree angle
Fixed downstem
(2) multi-hole downstem diffusers (5 sets of 4 holes in each)
Nail not included
Includes matching slide
Scientific glass joints
Borosilicate glass
Flared flame polished mouthpiece
Bent neck
Accented with sandblasted 4.0 Glass logo and black and white cane
Made in Minnesota USA
Glass Artist: Eric Ross
Each rig is hand spun and subject to slight variations in size and exact appearance.
*How Dimensions are Calculated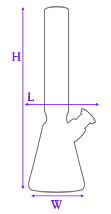 (H) Height = Maximum Height w/o Nail
(L) Length = Widest Point w/o Nail
(W) Width = Width of Base