This "Dope Dispenser" rig is a collaboration between glass artists Danny Camp and Blitzkriega. Blitz is known for his iconic woodgrain tech, which is incorporated into the can and the neck. Danny went at the shaping hard, giving this piece a classic soap dispenser shape. A hand ground joint sets this piece off, giving it a clean finish and sleek look.
Features & Specifications
Glass Artists: Blitzkriega and Danny Camp
Dimensions*: L:5" / W:3.5" / H:8"
10mm female joint
90 degree angle
Fixed downstem
(1) 2 hole downstem diffuser
Includes matching stopper / glass plug
Nail not included
Slide not included
Hand ground glass joints
Borosilicate glass
Flared flame polished mouthpiece
Bent neck
Made in USA
To view our Danny Camp Collection click here 
Each dab rig is hand spun and subject to slight variations in size and exact appearance.
*How Dimensions are Calculated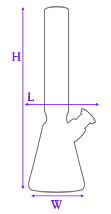 (H) Height = Maximum Height w/o Nail
(L) Length = Widest Point w/o Nail
(W) Width = Width of Base