The 12 inch grommeted beaker bong by Diesel Glass. This bong features grommeted joint fittings and a beak style base. This allows for a higher volume of water, filtering the smoke and giving you the chug you're looking for.
Features & Specifications
Brand: Diesel Glass
Bong Dimensions*: L:4" / W:4" / H:12"
Glass Thickness: 4mm
Tube Diameter: 38mm
12mm Grommet Joint @ 45 Degrees
Fixed Downstem
Open Hole diffused downstem
Removable Slide w/ handle
Single hole funnel bowl
Bowl Dimensions*: W:1.0" / D:0.75"
Borosilicate Glass
Flared Mouthpiece
Straight Tube
Made in Florida
To view our Diesel Glass collection click here
*Each water pipe is handcrafted and subject to slight variations in size and exact appearance.
How Bong Dimensions are Calculated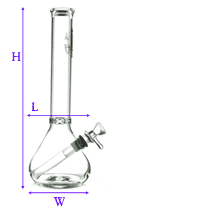 (H) Height = Maximum Height
(L) Length = Widest Point w/o Slide
(W) Width = Width of Base
How Bowl Dimension are Calculated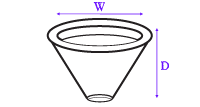 (W) Width = Widest Point
(D) Depth = Deepest Point