Germ has been constantly pushing the boundaries of pipe art as a movement. This mini tube is an excellent travelers with some added flare, featuring one of germs signature montage windows on the butt of the piece.
Features & Specifications
Brand: GERM
Dimensions*: L:3.5" / W:2.75" / H:6.5"
14mm male joint
45 degree angle
Fixed downstem
(1) 2 hole 'Pig Snout' downstem diffuser
Includes matching dome
Nail not included
Slide not included
Scientific glass joints
Borosilicate glass
Flared flame polished mouthpiece
Straight neck
Glass accented with worked glass bottom
Made in Philadelphia USA
Glass Artist: GERM
Each mini beaker is hand spun and subject to slight variations in size and exact appearance.
*How Dimensions are Calculated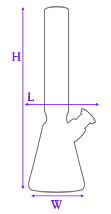 (H) Height = Maximum Height
(L) Length = Widest Point w/o Nail
(W) Width = Width of Base