Hamm Waterworks consistently pushes the boundaries of scientific glassblowing incorporated into pipes. These Cylinder rigs are 18mm male jointed and have a exo-diffy, a 2 hole perc pushed into the side of the can allowing for maximum diffusion with no splash back.
Features & Specifications
Brand: HAMM Waterworks
Dimensions*: L:3.5" / W:2.5" / H:5"
18mm male joint
90 degree angle
Fixed downstem
(1) 2 hole 'EXO Diffy' diffuser
Includes matching dome
Nail not included
Slide not included
Scientific glass joints
Borosilicate glass
Flame polished triangular mouthpiece
Bent neck
Purple glass accents on bottom of can
Made in Oregon USA
Each rig is hand spun and subject to slight variations in size and exact appearance.
*How Dimensions are Calculated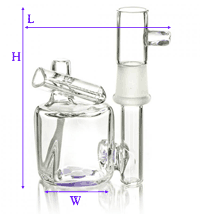 (H) Height = Maximum Height
(L) Length = Widest Point w/o Nail
(W) Width = Width of Base