| | |
| --- | --- |
| Availability: | Out of stock |
SOLD - OCT 2018
This item is a one of a kind piece that has already sold.  Displayed here are the archived item listing and photography. Retail price at time of sale shown.
Glass Blunts by Jay Luetjen are composed of two pieces; the glass blunt chamber and a removable mouthpiece. With the mouthpiece removed and the glass blunt chamber filled you are able to get the chamber lit and smoke as a traditional blunt.  When the pack starts to ash, simply insert and push the mouthpiece forward.  This will ash the bowl leaving a fresh pack underneath at which point you may remove the mouthpiece or leave it inserted in the chamber and continue smoking via the mouthpiece.  
Jay's mouthpiece design places the intake along the side versus the top which limits the amount of hot ash or other debris making its way down the mouthpiece,  offering a cleaner smoking experience.   The design also limits clogging of the mouthpiece when inserted into the glass blunt chamber.  This pipe is fumed and features multicolor accents.
Features & Specifications
Glass Artist: Jay Luetjen
Glass Blunt Chamber
Mouthpiece

Dimensions*: L:4.625" / W: .375"
3mm thick glass walls*

Weight*: 1.5 ounces
Glass Blunt / One Hitter
Location of Carb: No Carb
Borosilicate Glass
Made in USA
*How Dimensions are Calculated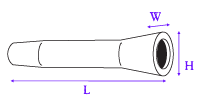 (L) Length = Maximum Length
(W) Width = Widest Point
(H) Height = Maximum Height