Representing Philly, this collaboration rig is by glass artists JOP and Pyrology glass. Incorporating scientific and sculpting techniques, this piece has it all. Included on this piece is a classic sculpted chicken by jop. This chicken makes up the mouthpiece, as well as having a solid foot attached as the base. With proper diffusion and a long style can, this piece chops the water allowing for a smooth and effortless pull.
Features & Specifications
Glass Artists: JOP and Pyrology
Dimensions*: L:4" / W:1.753" / H:11"
14mm male joint
90 degree angle
Fixed downstem
(1) Showerhead diffuser
Includes matching dome
Nail not included
Slide not included
Scientific glass joints
Borosilicate glass
Flame polished mouthpiece
Bent neck
Made in USA
To view our JOP Collection click here 
Each dab rig is hand spun and subject to slight variations in size and exact appearance.
*How Dimensions are Calculated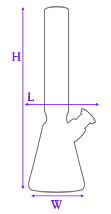 (H) Height = Maximum Height w/o Nail
(L) Length = Widest Point w/o Nail
(W) Width = Width of Base