The 38mm Tall Girl by Licit Glass. This bong stands at just under 20 inches tall and features a stemless showerhead diffuser. This piece comes with a matching single hole 14mm slide. With an ice catcher and 4mm thick glass, this bong is a great addition to any smokers collection.
Features & Specifications
Brand: Licit Glass
Dimensions*: L:3.75" / W:3.5" / H:19.75"
Tube Outside Diameter: 38mm
Glass Thickness: 4mm
(1) Showerhead Diffuser
3 Pinch Ice Catcher
Fixed Downstem
18mm Female Joint at 90 degrees
Removable Slide
Single hole funnel bowl
Bowl Dimensions*: W:0.75" / D:0.75"
Borosilicate Glass
Flared Mouthpiece
Straight Neck
Made in USA
To view our Licit Glass collection click here
*Each water pipe is subject to slight variations in size.
How Dimensions are Calculated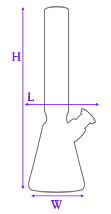 (H) Height = Maximum Height
(L) Length = Widest Point w/o Slide
(W) Width = Width of Base
How Bowl Dimension are Calculated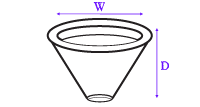 (W) Width = Widest Point
(D) Depth = Deepest Point