This lace sphere is part of Seed Of Life's 2017 series.  Featuring fire polished seed of life sections on the can neck and joint, this bong is packed with detail.  With a gridded lace sphere perc set low into the base, this bong stacks bubbles and preserves flavor.  This bong is signed and number 15 out of 33.
Features & Specifications
Brand: SOL - Seed of Life
Bong Dimensions*: L:4.5" / W:3.25" / H:13.5"
Body Tube Diameter: 50mm
Neck Tube Diameter: 22mm
14mm Female Joint at 90 Degrees
Stemless
Includes Removable Slide

3 hole funnel bowl with 2 marias
Bowl Dimensions*: W:.75" / D:0.5"

(1) Gridded Lace Sphere Percolator
Borosilicate Glass
Flared Mouthpiece 1.5" wide
Straight Neck
Glass Bong / Tube / Water Pipe
Made in California
To view our SOL - Seed of Life collection click here
*Each water pipe is handcrafted and subject to slight variations in size and exact appearance.
How Bong Dimensions are Calculated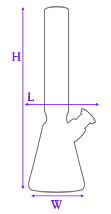 (H) Height = Maximum Height
(L) Length = Widest Point w/o Slide
(W) Width = Width of Base
How Bowl Dimension are Calculated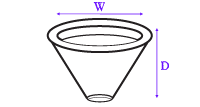 (W) Width = Widest Inside Point
(D) Depth = Deepest Point