Get a dose of color with this Wig Wag spoon by Ukiah. This pipe has a black, blue and purple reversal theme throughout the pipe.

Features & Specifications
Glass Artist: Ukiah
Pipe Dimensions*:

L:4.25" / W:2.75" / H:2"

Bowl Dimensions*: Width:.75" / Depth:.5"
Weight: 2.75 ounces
Glass Spoon / Hand Pipe / Dry Pipe
Single Hole Push Bowl
Location of Carb: Left Side
Borosilicate Glass
Made in USA
To view our Ukiah Collection click here
Each glass hand pipe is hand spun and subject to slight variations in size, weight and exact appearance.
*How Dimensions are Calculated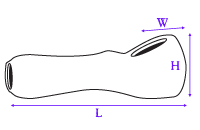 (L) Length = Maximum Length
(W) Width = Widest Point
(H) Height = Maximum Height