Multicolored pipes by East Coast John. This pipe has white base with a red and blue wrap and rake throughout the pipe. Adorned on the side of the bowl are 4 green dots. This allows you to grip the pipe without worry of dropping it.
Features & Specifications
*Each glass spoon pipe is hand spun and subject to slight variations in size, weight and exact appearance.
How Pipe Dimensions are Calculated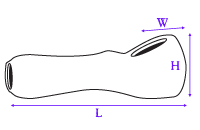 (L) Length = Maximum Length
(W) Width = Widest Point
(H) Height = Maximum Height
How Bowl Interior Dimensions are Calculated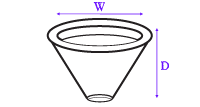 (W) Width = Widest Point
(D) Depth = Deepest Point