This 10mm mini tube is built to last. A excellent piece for the traveling smoker. This rig features a donut style mouthpiece that looks great and acts a splash guard. This rig has sections of cobalt blue tubing on the mouthpiece, donut and joint.  
Features & Specifications
Dimensions*: L:3.0" / W:3.0" / H:8.75"
Weight: 6.5 ounces
10mm female joint at 45 degree angle
Removable downstem
(1) 3 hole difussed downstem
Dowmstem length: 3.0"
Nail not included 
Slide not included
Made with Accugrind ground glass joints
Borosilicate glass
Straight Neck
Tapered flame polished mouthpiece
Donut neck splash guard
Made in Salem, Massachusetts USA
Glass Artist: Treso Queso
Each mini tube is hand spun and subject to slight variations in size and exact appearance.
*How Dimensions are Calculated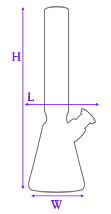 (H) Height = Maximum Height
(L) Length = Widest Point w/o Nail
(W) Width = Width of Base