SOLD - JAN 2018 - AGE Glass Drop
This item is a one of a kind piece that has already sold.  Displayed here are the archived item listing and photography. Price paid at time of sale not shown on sold items.
Featured as part of the Witch DR Glass Blowing Studio 2018 AGE Glass Drop. Accented with 'Dayglo' UV reactive glass; shifting from blue to green when exposed to UV light source.
Features & Specifications
Glass Artist: Evol Empire
Dimensions*: L:5.5" / W:3.75" / H:9.5"
14mm female joint 90 Degree Angle
Recycler
Fixed reinforced joint
Multislit disk diffused downstem
Nail Not Included

Hand Ground glass joints
Borosilicate glass
Bent neck 20mm
Flared mouthpiece
Made in USA
To read more and view our Evol Empire Collection click
here
*How Dimensions are Calculated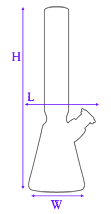 (H) Height = Maximum Height w/o nail
(L) Length = Widest Point w/o Nail
(W) Width = Width of Base
To view our Evol Empire Collection click here