| | |
| --- | --- |
| Availability: | Out of stock |
Mini straight tube by HVY Glass. This bong has a sandblasted HVY logo, as well as a removable downstem and bowl in addition to a three pinch ice catcher. A multi slit downstem creates proper diffusion allowing for a smooth and flavorful hit.
Features & Specifications
Brand: HVY Glass
Glass on Glass
Bong Dimensions*: H:11" / L:4" / W:3"
Glass Thickness: 5mm
Tube Diameter: 38mm
14mm female slide joint @ 45 degrees
Removable 6-Slit diffused downstem
Removable 14mm male slide
Single hole funnel bowl
Bowl Dimensions*: W:1.0" / D:0.75"
Borosilicate Glass
Flared mouthpiece
Straight tube
Made in California USA
To view our HVY Glass collection click here
*Each glass water pipe is handcrafted and subject to slight variations in overall size and exact appearance.
How Bong Dimensions are Calculated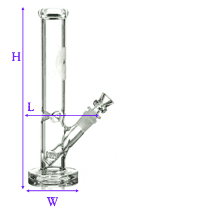 (H) Height = Maximum Height
(L) Length = Widest Point w/o Slide
(W) Width = Width of Base
How Bowl Dimension are Calculated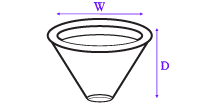 (W) Width = Widest Point
(D) Depth = Deepest Point
To view our HVY Glass Collection past and present click here
***** |