Chillums by Multiverse glass. This inside out chillum is worked with multicolored frit and is fumed with silver. This gives the pipe a truly unique appearance. With a massive bowl pack, this chillum is a great travel item for the on the go smoker.
Features & Specifications
To read more about Multiverse and view our Multiverse Collection click here  
*Each glass chillum one hitter is hand spun and subject to slight variations in size, weight and exact appearance.
How Dimensions are Calculated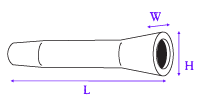 (L) Length = Maximum Length
(W) Width = Widest Point
(H) Height = Maximum Height
How Bowl Interior Dimensions are Calculated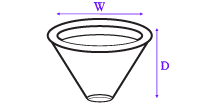 (W) Width = Widest Point
(D) Depth = Deepest Point
To view our Multiverse Collection click here