SOLD - MAR 2018
This item is a one of a kind piece that has already sold.  Displayed here are the archived item listing and photography. Retail price at time of sale shown.
DR LOVE - This item was purchased by a DR LOVE gift script runner-up prize winner A.G. of New York. Click to read more about DR Love
Locknut's have always been one of KGB's favorite style donuts to bake. This classic Rasta Sherlock is covered with chocolate frosting and drizzled in red, yellow and green. One of the rarest flavors of all made the cut (chocolate dhicro dough) and serves as a kickstand to keep this dough off the table.
Features & Specifications
To read more about KGB and view our KGB collection click here
*How Pipe Dimensions are Calculated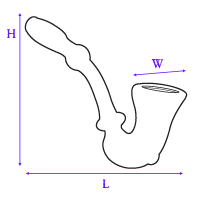 (L) Length = Maximum Length
(W) Width = Widest Point
(H) Height = Maximum Height
How Bowl Inner Dimensions are Calculated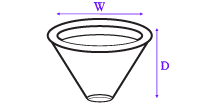 (W) Width = Widest Point
(D) Depth = Deepest Point
To view our KGB Glass Collection click here