Features & Specifications
Brand: Witch DR Glass Blowing Studio
14mm male joint
Glass Artist: Gloro Glass
Glass Slide Dimensions*: W:1.75" / D:1.25"
Weight*: 0.65 ounces
Color Changing / 18K Gold and 99.9% Silver Fume
Features Witch DR 'Rx' sandblasted engraving on joint
Accented with (3) CFL*** dots

Dots shift from Pale Purple to Pale Yellow

Single Hole Push Bowl
Bowl Dimensions**: 0.5" x 0.5"
Glass Slide / Glass Bowl / Bong Accessory 
Borosilicate Glass
Made in Salem, Massachusetts USA
To view the Witch DR Brand Collection click here 
*How Dimensions are Calculated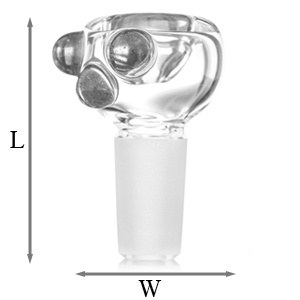 (L) Length = Maximum Length
(W) Width = Widest Point
**How Bowl Inner Dimension are Calculated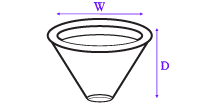 (W) Width = Widest Point
(D) Depth = Deepest Point
*** Glass made of CFL colors shifts color when glass is exposed to CFL (Compact Fluorescent Lighting).  
Color Changing / Gold and Silver Fume
As your glass piece is used and begins to 'backfill' areas with fume will shift colors. This is known as Iridescence and increases with increases in backfill.


This effect seen in a soap bubble as the light passes through the 'clear' soap bubble only to reveal a rainbow of colors (see image below) as the light interacts with the clear water but also the soap within the bubble.


The amount of Fume Iridescence depends on many factors including the opacity of the fume, the amount of backfill, light conditions and if Gold or Silver is the source of fume.


Without backfill Silver Fume has a Red tint where Gold appears as Light Cream / Ghost Blue. When Gold and Silver are used on the same piece, areas where they crossover tint to orange.


Removing the backfill is accomplished with a complete cleaning of the glass.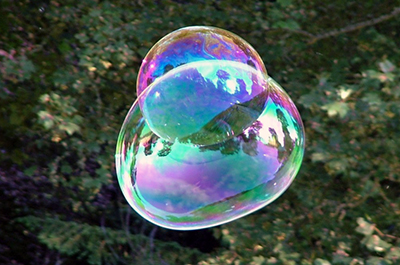 To view our Witch DR Collection past and present click here
***** |