Representing the first of two new birch themed offerings from Kevin Engelmann, both the Dry Hammer and Chillum are signed and numbered #01 by the artist. 
Part of the Kevin Engelmann 'Harvest Series'. A true collector's item!
Includes Witch DR Glass Blowing Studio 'Grass Grows Green' Moodmat and Witch DR white Medtainer.
Dry Hammer Features & Specifications
Brand: Witch DR Glass Blowing Studio
Glass Artist: Kevin Engelmann
Pipe Dimensions*: 

L:5.0" / W:1.5" / H:2.5"

Bowl Dimensions*: W:0.75" / D:0.75"
Weight: 2.85 ounces
Glass Hammer / Hand Pipe / Dry Pipe
Single Hole Push Bowl
Location of Carb: Left Side
Borosilicate Glass
Handcrafted in the USA
*How Pipe Dimensions are Calculated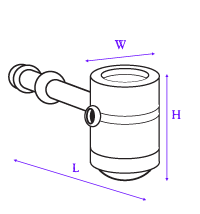 (L) Length = Maximum Length
(W) Width = Widest Point
(H) Height = Maximum Height
How Bowl Dimension are Calculated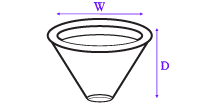 (W) Width = Widest Point
(D) Depth = Deepest Point
Chillum Features & Specifications
How Dimensions are Calculated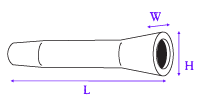 (L) Length = Maximum Length
(W) Width = Widest Point
(H) Height = Maximum Height
How Bowl Interior Dimensions are Calculated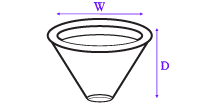 (W) Width = Widest Point
(D) Depth = Deepest Point
To view our Kevin Engelmann Collection click here