Relax in style with this frosted laydown bubbler by Treso Queso. Black wrap and rake with an open hole stem dropped into the can, this bubbler provides excellent chug for a smooth hit every time!  
Features & Specifications
To view the Witch DR Brand Collection click here 
*Each glass laydown bubbler is handcrafted and subject to slight variations in size,weight and exact appearance.
How Pipe Dimensions are Calculated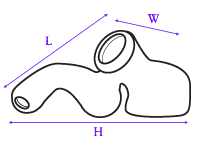 (L) Length = Maximum Length
(W) Width = Widest Point
(H) Height = Maximum Height
How Bowl Interior Dimension are Calculated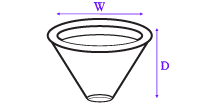 (W) Width = Widest Point
(D) Depth = Deepest Point
To view our Witch DR Collection click here
*How Glass Bead Pendant Dimensions are calculated
(L) Length = Maximum Length
(W) Width = Widest Point