A classic glass chillum by the OG Jerry Kelly. This pipe features chaos sections filled with themed millies. Built to last, this chillum is an excellent piece for the traveling smoker and collector.
Features & Specifications
To read more about Jerry Kelly and view our Jerry Kelly Collection here 
*Each glass chillum one hitter is hand spun and subject to slight variations in size, weight and exact appearance.
How Dimensions are Calculated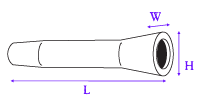 (L) Length = Maximum Length
(W) Width = Widest Point
(H) Height = Maximum Height
How Bowl Interior Dimensions are Calculated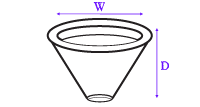 (W) Width = Widest Point
(D) Depth = Deepest Point