EAT. MY. SHORTS. This 2018 Wonderlamp is fully loaded with 46 Jerry Kelly millie chips! Just shy of 12 ounces, there's no wonder why it's so heavy. The only condition that comes along with this collab is you gotta keep the lamp lit. It shouldn't be a tough task thanks to Bluegrass' two hole angled diffusion otherwise known as the jacuzzi.
Features & Specifications
Glass Artists: Collab by Bluegrass and Jerry Kelly
Signed on bottom by Bluegrass
Dimensions*: L:3.5" / W:2.5" / H:6.75"
Weight: 11.21 0unces
10mm female joint 90 Degree Angle
Fixed downstem
Nail Not Included

Hand Ground glass joints
Borosilicate glass
Straight neck
Tapered mouthpiece
Made in USA
To view our Bluegrass x Jerry Kelly Collection click here
*How Dimensions are Calculated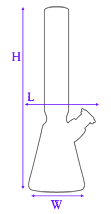 (H) Height = Maximum Height w/o nail
(L) Length = Widest Point w/o Nail
(W) Width = Width of Base
| Heady Boi
04-01-2021 00:07
Best Lamp I've hit. Whoever has this now is a lucky f*cker.
5
stars based on
1
reviews