| | |
| --- | --- |
| Availability: | Out of stock |
The 32mm ratchet perc bubbler by C2 aka Custom Creations Glass. This scientific bubbler makes for a great addition to any collection. With the use of German Schott glass, C2 makes durable pipes that are built to last. The ratchet perk works to diffuse and filter the smoke making for a smooth hit.
Features & Specifications
Brand: C2 Custom Creations
Bong Dimensions*: L:4.5" / W:2.25" / H:7.5"
Glass Thickness: 5mm
Body Tube Outer Diameter: 32mm
Neck Tube Outer Diameter: 16mm
10mm Female Joint at 90 Degrees
Fixed Downstem
Includes Removable Slide

Single hole push bowl
Bowl Interior Dimensions*: W:0.5" / D:0.5"

(1) Circ Ratchet Percolators
Borosilicate Glass
Flared Mouthpiece 1.0" wide / .5" opening
Bent Neck
Glass Bong / Tube / Water Pipe / Bubbler
Made in California
To view our C2 - Custom Creations collection click here
*Each water pipe is handcrafted and subject to slight variations in size and exact appearance.
How Bong Dimensions are Calculated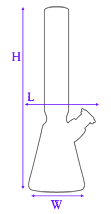 (H) Height = Maximum Height
(L) Length = Widest Point w/o Slide
(W) Width = Width of Base
How Bowl Interior Dimension are Calculated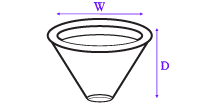 (W) Width = Widest Point
(D) Depth = Deepest Point
To view our Custom Creations Collection click here