Mini donut mouthpiece chillum by Kevin Engelmann. A great discrete option for the traveling smoker. Fully functional, this Chillum can also be worn as a pendant, using the donut mouthpiece (see example images).
Features & Specifications
To view our Keith Englemann Collection click here
*Each glass chillum one hitter is hand spun and subject to slight variations in size, weight and exact appearance.
How Dimensions are Calculated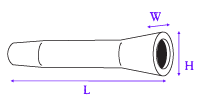 (L) Length = Maximum Length
(W) Width = Widest Point
(H) Height = Maximum Height
How Bowl Interior Dimensions are Calculated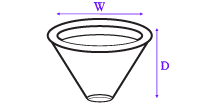 (W) Width = Widest Point
(D) Depth = Deepest Point
To view our Keith Engelmann Collection click here