Mouse was able to pack a lot of detail into a small space.  This pipe features classic silver fuming as well as hand drawn red flowers with vines spread throughout the pipe.  Portable and durable, these hand pipes are a great addition for the traveling smoker.
To view our Mouse Collection click here 
Each glass spoon hand pipe is hand spun and subject to slight variations in size and exact appearance.
*How Dimensions are Calculated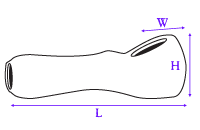 (L) Length = Maximum Length
(W) Width = Widest Point
(H) Height = Maximum Height
To view our Mouse Collection click here
*How Pipe Dimensions are calculated
(L) Length = Maximum Length
(W) Width = Widest Point
(H) Height = Maximum Height
How Bowl Inner Dimensions are Calculated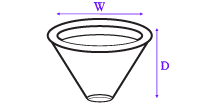 (W) Width = Widest Point
(D) Depth = Deepest Point