Made in New York, Toro Glass is known throughout the community for their meticulous quality control. This TORO water pipe features UV Reactive glass elements. 
Features & Specifications
Brand: Toro Glass
Dimensions*: L:4.0" / W:3.0" / H:6.0"
Weight: 6.88 ounces
Body: 50mm
Neck: 19mm
14mm female joint
90 degree angle
Fixed downstem


(1) Multi-Slit (4) diffusion

Slide Not Included
Carb Cap Not Included
Nail not included
Scientific glass joints
Borosilicate glass
Flared flame polished mouthpiece
Bent neck
Toro Logo on neck (bake-on decal)
Made in New York USA
To read more about Toro Glass and view all our available Toro Glass water pipes and accessories click here
Each rig water pipe is handcrafted and subject to slight variations in size, weight and exact appearance.
*How Dimensions are Calculated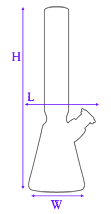 (H) Height = Maximum Height w/o Nail
(L) Length = Widest Point w/o Nail
(W) Width = Width of Base
To view our TORO Collection click here