Enjoy your dabs with this UV over Pink Slyme Double Begg by Tubesock Glass. This rig features a double begg section, which incorporates the ball and Faberge styles into one. Standing at just over 6 inches tall, this piece is an excellent portable rig. With proper diffuser placement and shaping, this piece is a terp shredder!
Features & Specifications
Brand: Tubesock Glass
Dimensions*: L:3" / W:3" / H:6.5"
10mm female joint
90 degree angle
Fixed downstem
(1) 2 hole diffuesed downstem diffuser
Nail not included
Slide not included
Scientific glass joints
Borosilicate glass
Flared flame polished mouthpiece
Bent neck
Made in USA
To view our Tubesock Glass Collection click here 
Each dab rig is hand spun and subject to slight variations in size and exact appearance.
*How Dimensions are Calculated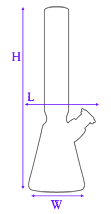 (H) Height = Maximum Height w/o Nail
(L) Length = Widest Point w/o Nail
(W) Width = Width of Base
To view our Tubesock Glass Collection click here