SOLD - APR 2018
This item is a one of a kind piece that has already sold.  Displayed here are the archived item listing and photography. Retail price at time of sale shown.
---
Features & Specifications
Brand: Waldo's Wonders
Glass Artist: Michael Ray
Dimensions*: L:4.0" / W:3.5" / H:7/0"
Weight: 16 ounces
10mm female joint
90 degree angle
Fixed downstem
(1) 3 hole Disk diffusion
Nail not included - View Compatible Nails
Slide not included
Scientific glass joints
Borosilicate glass
Flared flame polished mouthpiece
Bent neck
Clear glass
Made in Duluth, Minnesota USA
Each Rig is handcrafted and subject to slight variations in size, weight and exact appearance.
*How Dimensions are Calculated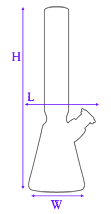 (H) Height = Maximum Height
(L) Length = Widest Point w/o Nail
(W) Width = Width of Base