A collaboration between two Massachusetts locals, Phil Todisco & Tom Wellwood, this spacey banger hanger will lift you into the clouds. With the incorporation of Tom's classic space fume sections and two fume mibs. Phil shaped this tube into a crusher of terps. This piece features a 14 mm female joint, as well as a two hole diffy dropped into the back of the can, allowing for maximum vapor control.
Features & Specifications
Dimensions*: L:4" / W:2.75" / H:7"
14mm female joint
90 degree angle
Fixed downstem
(1) 2 hole 'Pig Snout' downstem diffuser
Nail not included - View Compatible Nails
Slide not included
Hand ground glass joints
Borosilicate glass
Flared flame polished mouthpiece
Straight neck
'Space' fume accented glass
(2) attached fume accented marbles
Made in Salem, Massachusetts USA
Glass Artists : Phil Todisco & Tom Wellwood
This Rig is hand spun and subject to slight variations in size and exact appearance.
*How Dimensions are Calculated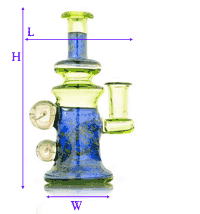 (H) Height = Maximum Height
(L) Length = Widest Point w/o Nail
(W) Width = Width of Base