SOLD - OCT 2018
This item is a one of a kind piece that has already sold.  Displayed here are the archived item listing and photography. Retail price at time of sale shown.
This split rat rig is a special offering from RVA glassblower Akm. A full body rat was first hand blown, then wet sawed in half, creating the ability to make two pieces. The left side of the rig features a regular rat, while the right side is split open showcasing the inside of the body including a skull with opal eyes. With meticulous detail, Akm was able to draw on organs and really bring this pipe to life. 
Photographs marked with letter 'Rx' are of the 'Right-Half' Rat.
Features & Specifications
Brand: AKM
Dimensions*: L:4" / W:4" / H:5.5"
10mm female joint
90 degree angle
Fixed downstem
(1) 2 hole downstem diffuser
Nail not included
Slide not included
Hand ground glass joints
Borosilicate glass
Flame polished mouthpiece
Straight neck
Made in USA
To view our AKM Collection click here 
*How Dimensions are Calculated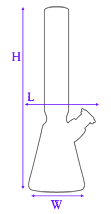 (H) Height = Maximum Height w/o Nail
(L) Length = Widest Point w/o Nail
(W) Width = Width of Base
To view our AKM Collection click here