Portable and durable, these mini cylcers are great for the on the go smoker.  Two hole diffusers and a 10mm female joint create proper diffusion allowing for a steady flow of water without the can bottoming out.
Features & Specifications
Brand: Dirty B Glass
Dimensions*: L:3" / W:2" / H:4.75"
10mm female joint
90 degree angle
Fixed downstem
(1) 2 hole 'Pig Snout' downstem diffuser
Nail not included - View Compatible Nails
Slide not included
Hand Ground glass joints
Borosilicate glass
Flame polished mouthpiece
Bent neck
Clear glass
Made in Burlington, Vermont USA
Each Rig is subject to slight variations in size and exact appearance.
*How Dimensions are Calculated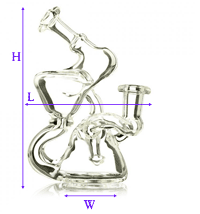 (H) Height = Maximum Height
(L) Length = Widest Point w/o Nail
(W) Width = Width of Base