Keeping Austin weird one pipe at a time. Earl Jr is known for making technical and functional glass pipes.  This Geo Beaker features three sandblasted sections on the neck, joint & base.  A four hole showerhead leading up into a faberge style diffusion system allows for the smoke to move freely creating a smooth smoking experience.  This piece features a 14mm female joint that is bridged to the can.
Features & Specifications
Glass Artist: Earl Jr
Dimensions*: L:4.75" / W:4" / H:7.5"
14mm female joint
90 degree
Fixed downstem
(1) 4 hole showerhead perc diffuser
Nail not included - View Compatible Nails
Slide not included
Scientific glass joints
Borosilicate glass
Flared flame polished mouthpiece
Bent neck
Clear glass with sandblasted neck
Made in Texas USA
Each rig is hand spun and subject to slight variations in size and exact appearance.
*How Dimensions are Calculated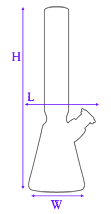 (H) Height = Maximum Height
(L) Length = Widest Point w/o Nail
(W) Width = Width of Base
To view our Earl Jr Collection click here